When a restaurant has been open for 30 years, it tends to have accumulated a lot of odd memorabilia and decor. And if you've been open for 130 years, the goods get even odder.
Case in point: the Buckhorn Exchange. Open since 1893, the unassuming brick structure at the corner of 10th Avenue and Osage Street is at once a highly regarded game and steak joint and a museum with an unusual collection.
Observed at first from the historic bar — which was crafted in Essen, Germany, in 1857 and came to Denver via New York via oxcart — is Colorado Liquor License No. 1.
Buckhorn General Manager Anthony Perez credits the restaurant's founder, Henry "Shorty Scout" Zietz, for doggedly pursuing the state's first liquor license when Prohibition ended in 1933.
"Once it was legal, he applied right away," says Perez, noting that the Brown Palace was also jockeying for the license.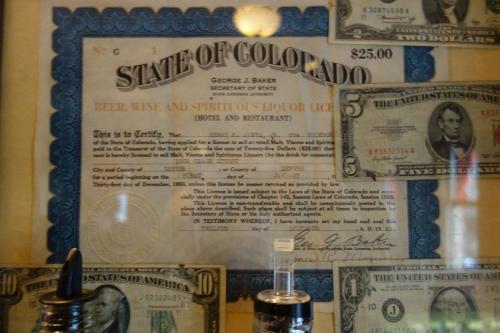 Not that the Buckhorn was ever exactly dry. While it served as a grocery during Prohibition, Zietz made special modifications to some of the products.
"From what I understand, he was hollowing out bread and selling it out of the restaurant," says Perez. Inside each loaf was a bottle of Zietz's own brand of whiskey.
While you're still sitting at the bar, the first license is just a starting point as your eyes wander. The bar, with its diamond-dust mirror, is a thing of beauty, and the original cash register from the 1800s is still in operation.
Twist around on your barstool and you'll see Sitting Bull's niece's wedding dress on the wall above the staircase, near the mounted head of a buffalo and a stuffed wolverine and peacock, and on the adjacent wall, a two-headed calf's dual noggins.
They represent four (or is it five?) of about 570 animals on display here, including a 9-foot-tall Kodiak bear and the nether regions of a whale hanging from the dining room rafters on the first floor. Near the big bear upstairs is "our version of Noah's Ark," says Perez, with three raccoons and a skunk in a canoe.
There are also more than 550 antique firearms and a few poker tables that were here when the place opened, featuring cubbies for whiskey glasses underneath. "You had to put your drinks below, so you didn't spill them on the cards — or you would get in a fight," says Perez.
JFK's 1961 Colorado fishing license decorates a wall downstairs, near a flag from Teddy Roosevelt's presidential train. Black-and-white photos of notable customers are just about everywhere. The list of celebrities who have been here includes "Garth Brooks, Gretzky, Elway, Phil Simms, Metallica, The Eagles, Scorpions, presidents, dictators," says Perez, who has worked at the Buckhorn for more than 30 years.
Do dictators tip well? "Yeah, they drink a lot — and they tip very well," laughs Perez.
The celebrity most affiliated with the Buckhorn has got to be William "Buffalo" Bill Cody. When he was 10 years old, Zietz met Cody and became one of his scouts just two years later. At the Buckhorn today, a room downstairs is dedicated to "Buffalo Bill" with artifacts from his famed Wild West shows and the final receipt from his business, dated 1916.
Back at the bar, you can even order a Buffalo Bill's Cocktail: bourbon and apple juice.
"It's been served here for more than 100 years," says Buckhorn bartender Brittany Barnes. "That was how he won the majority of his poker games. He would be drinking apple juice and bourbon, and everybody else would be drinking straight bourbon."